Cytiva has introduced an innovation that supports the biotech industry's move to continuous manufacturing. Called the Xcellerex Automated Perfusion System (APS), it simplifies processes and reduces risk when intensifying upstream operations.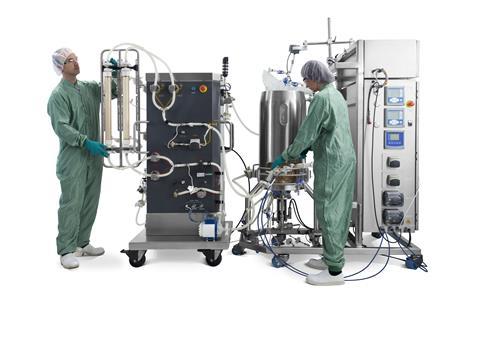 Cell culture operations using perfusion allow for significant productivity gains compared the more commonly used fed-batch approach. However, perfusion is inherently more complex than a fed-batch process due to the need for a cell separation device and the constant addition and removal of cell culture media. The operation is often a manual, labour-intensive operation.
"Xcellerex APS is addressing these challenges by offering a fully integrated, automated perfusion system", says Neil Ross, Cytiva's Global Product Marketing Manager, Upstream. "It incorporates the bioreactor, cell separation device and liquid management in a single platform, all controlled from one user interface."
Minimal error risk
A main feature of Xcellerex APS is its level of automation, ranging from automated filter switching to automated liquid management and permeate bin switching. Ross: "Manual actions are reduced, which minimises the risk of error."
The system uses a low-shear, single-use centrifugal pump as the recirculation device, providing a very gentle flow path for shear-sensitive feeds. "Xcellerex APS is essentially a tangential flow filtration system using hollow fibres as the separation device", explains Ross. "These are available in many pore sizes and membrane areas, allowing for individual process optimisation."
Pressure sensors and flow meters are installed throughout the system to monitor filtration performance. When a user-defined set point is reached, the automated valves instantaneously switch from the primary to the secondary filter in order for the operation to continue uninterrupted. With media addition, the bins containing the media are placed on load cells connected to the APS system and when the low level set point is reached, the valves switch to a second media bin.
Customer feedback
"Cell bleed is required every day in order to keep the cells in the bioreactor healthy", says Ross. "This operation is also automated by Xcellerex APS. In addition, it has an automated cell harvest function. Cells are recovered without the need for additional pump skid."
The Xcellerex APS system is designed for operation with Xcellerex XDR bioreactors of 50, 200 and 500 litres. "We have tried to incorporate as many features as possible as standard into the system", says Ross. "That is based on the extensive customer feedback that we gathered through the planning and execution of the system development. In principle, this eliminates the need for customisation. However, of course we're always ready to discuss specific requirements with our customers."
Cytiva is the global provider of technologies and services that advance and accelerate the development and manufacture of therapeutics. We have a rich heritage tracing back hundreds of years, and a fresh beginning since 2020.
View full Profile