Single-use technology is here to stay: it brings speed and flexibility to bioprocessing, and it's used in a variety of upstream and downstream applications. As many suppliers and biomanufacturers know from recent experience, single-use supplies are also in high demand. There's a lot of pressure on single-use systems, both in terms of function and material supply. At Cytiva, one of the ways we've addressed this pressure is the development of Fortem™ film — designed specifically for single-use bioprocessing applications.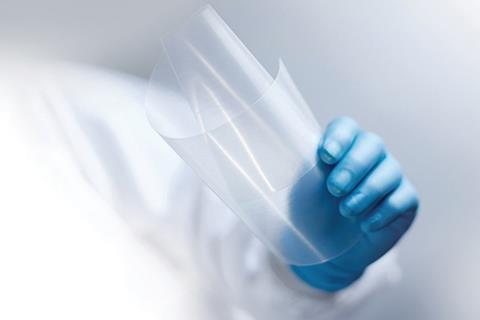 A fit-for-purpose film with transparent origins
The composition of the film in a single-use system has a strong influence on the construction, performance, and manufacturability of the final product. Most single-use systems today are made from polymer films first used in other applications, such as food packaging or blood bags. These films aren't always well characterized in terms of biocompatibility, and they're typically supplemented with additives that may improve their performance outside of bioprocessing but can have adverse effects on cell growth and metabolism. Addressing the need for a film made specifically for bioprocessing was our first goal.
Our second goal was to emphasize transparency of the supply chain. When single-use technology is deployed in biologics production, biomanufacturers shift part of their supply chain, process technology, and quality control responsibilities to the suppliers. This means suppliers need to have a complete understanding of raw materials used for the film and the science behind the film's composition and characteristics, as well as the engineering and quality control measures of the film manufacturing process.
Building the team
To meet these objectives, we partnered with Sealed Air Corporation, a film manufacturer with strong material science knowledge and advanced manufacturing technology. The company shared extensive information about its materials, including information and manufacturing expertise related to each layer in the film. This allowed us to have deep technical knowledge of the product, from the beginning. For example, the contact layer of Fortem™ film is a blend of polyethylene and cyclic olefin copolymer. The key advantage of this blend is that it doesn't require small molecule slip agents, which are used in many other films on the market and could potentially become leachables. Furthermore, cyclic olefin copolymers show low protein adsorption, making them suitable for use in pharmaceutical container technology.
Establishing baseline
At the beginning of the project, we established a series of quick pass-fail tests to use for the new film and to evaluate films already in our portfolio. Among the latter, Bioclear™ film is well-suited for WAVE™ bioreactors, as it's designed for rocking cell culture operation. However, it wasn't purpose-built for long-term storage of media or process fluids, so it doesn't have the gas barrier properties required to protect the sensitive chemistries in process fluids over the shelf life.
Another top priority was supply chain transparency. As use of single-use technology in GMP production increases, standards must evolve to meet strict cGMP requirements. These requirements affect raw material design, control, quality, and continuous process verification.
While evaluating materials for the prototype film, we considered compliance, security of supply, and manufacturing transparency. Having that deeper technical knowledge from the start was one of our main reasons for designing a fit-for-purpose bioprocess film
Sharing the burden
Biomanufacturers can spend 18 to 26 months and up to $500,000 to qualify a new material that is a direct wetted surface in their process. A typical evaluation looks at:
Acceptability of the material for general use, including material suitability, microbial integrity, extractable study, and toxicological evaluation
Compatibility with intended process use, including chemical compatibility, leachable study, and further toxicological evaluation
Certificate of assurance verification (multiple lots are assessed)
To support this process, we paid close attention to critical film quality attributes (Fig 2) and used test methodologies from BioPhorum Operations Group (BPOG), ASTM, the International Organization for Standardization (ISO), and the US Pharmacopeial Convention (USP). Customers can use this data to reduce the time needed to qualify the film.
Critical Quality Attributions
Biocompatibility

No cell growth inhibition

Regulatory compliance

Low extractable profile

Mechanical properties

Film strength

Seal strength

Film elongation

Flex fatigue resistance

Puncture/abrasion resistance

Biocompatibility

Clarity/haze

Heat stability

Freeze/thaw stability

O2 and CO2 barrier

H2O barrier

Gamma irradiation stability

Suitable shelf-life

Low chemical adsorption
Fig1. An overview of critical quality attributes assessed in the design of Fortem™ film.
Our scientists and engineers also designed test methodologies to gain a deeper understanding of the film's attributes — such as flexural properties and abrasion resistance — and of how it might perform under demanding conditions. Films from multiple lots were tested for consistency, and sample sizes were made larger. We worked with Sealed Air Corporation to develop a validation strategy that reflects customers' real-world processing conditions — including large volumes, extreme temperatures, vigorous rocking, and bulk liquid transport.
We also worked with Sealed Air to establish comprehensive specifications and performance attributes to address the burden of qualifying a film for general and application-specific use.
The right stuff
We looked at approximately 22 prototypes for Fortem™ film. Top of mind was compatibility with cell lines pertinent to the biopharma industry, such as Chinese hamster ovary (CHO) cells. To address this point quickly, our research team in Uppsala developed a screening methodology with a sensitive CHO cell line to look at the impact of potential extractables from these prototypes on cell growth and viability.
Next, we looked at some physically rigorous uses of single-use film, such as in bags for WAVE™ rocking bioreactors. We developed a model that would rigorously flex the material, allowing us to compare the prototype's performance to common benchmarks.
Other areas evaluated were the film's suitability for making strong perimeter seals and port seals using accessory parts (ports and manufacturing equipment). These seals ensure the bags remain integral under strenuous conditions.
We also subjected bags made with the film to burst testing and pressurization, freeze/thaw cycling, and other physical and mechanical stresses that a film might experience. In some cases, conditions were exaggerated to ensure requirements were not just met but were exceeded. We also ran tests to observe Fortem™ film's behavior and durability under a high rate of agitation at high temperatures over a long duration
Fit for fluid mixing and storage
Stability is an important consideration for films used in storing and mixing media or in buffer and process liquid applications — which subject films to a wide range of conditions, including temperature, pH, and handling.
Gas barrier properties are particularly important to stability. Too much oxygen permeating the material could lead to degradation of sensitive chemistries in cell culture media. In products that have carbonate buffers, CO2 exchange can affect pH stability.
Furthermore, when considering shelf life, loss of volume related to exchange of moisture vapor is a concern.
Conclusion
As use of single-use technology in GMP production increases, single-use suppliers must evolve to keep up with cGMP requirements, the ever-growing array of applications, and the need to prioritize security of supply.
Engineering a film enabled us to address these concerns from the beginning and deliver a product that meets the industry need for a fully characterized film, with supply chain transparency as a focal point.
Learn more about single-use fluid management here