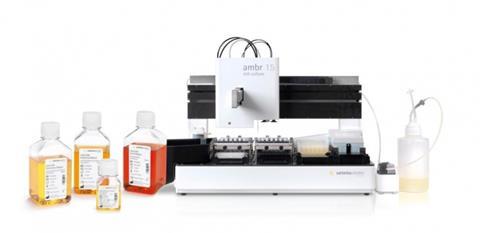 Cell culture media and buffers are an important factor in bioprocessing. Where media determine cell growth and upstream productivity, buffer concepts determine downstream footprint and efficiency. How can optimal formulation and formatting of these essential materials help to produce better and cheaper medicines?
Process intensification is a major theme in bioproduction. Increasing the production of antibodies and recombinant proteins is essential to meet the increasing demands for, among others, immunotherapy or biosimilars.
"The goal of the intensification efforts is the flexible production of an affordable product that can be brought to the market quickly," says Gerben Zijlstra, Global Technology Consultant Intensified & Continuous Biomanufacturing at Sartorius.
One way of achieving intensification is to increase cell densities in each upstream step. "Perfusion is the main tool for this," says Zijlstra. But using this technique, where growth medium is renewed and metabolites removed, means a significant increase in medium use, up to ten times as much per reactor volume. However, this only results in a limited increase in total medium use, because the cell densities in the reactor increase up to tenfold, according to Zijlstra. "That means you only need a 2,000 L bioreactor, which is usually a single-use bag, instead of a 20,000 L stainless steel setup. That saves a lot of investment and ensures a smaller footprint. It also means that medium preparation and supply must be efficient and must be taken into account when designing the facility."
Connected processing
In downstream processing, intensification means using more productive steps and not waiting for one step, such as filtration, to finish before starting the next, such as virus inactivation or purification. "While the amount of the buffers needed for these connected processing steps running in parallel is roughly the same, they need to be supplied in a shorter period of time," says Zijlstra.
One way of supplying media and buffers more efficiently is outsourcing the formulation and the preparation to the supplier, in this case Sartorius. It developed a special media kit that has been designed for high yielding fed batch bioprocesses for DG44 CHO cell lines, says Katrien Deknopper, Media Project Manager at Sartorius Stedim Biotech. "The kit consists of a stock medium, a production medium and two feed media for the fed batch process and is of course all chemically defined, protein-free and free of products from animal origin."
The fed batch medium was tested in the ambr15 high-throughput system and in a 5 L reactor, showing higher viable cell concentrations and titer and lower lactate production than other media. Testing in various larger vessels up to 2,000 L showed a high reproducibility in different reactor sizes proving that scaling-up is not an issue. Additionally, even when storing the media for over 15 months in single-use Flexsafe bags, made from Sartorius' proprietary film material for bioreactors and storage bags, no influence on the media quality and cell growth performance was observed.
Concentrated preparation
Another way of efficiently supplying media and buffers is using a powder or concentrated solution which is diluted inline. "Again, this further decreases the footprint of the facility. Additionally, we deliver premilled and preweighed powder buffers, which saves the manufacturer time and money to organize the handling, weighing and preparing of the buffer, freeing up the operators valuable time," says Deknopper.
Zijlstra concludes: "The CHO media kit performs very well for fed batch processes and as a blend can already be used for small scale perfusion process trials. To facilitate large scale operability a tailored standard perfusion medium will be launched soon."
At Sartorius, we empower scientists and engineers to simplify and accelerate progress in life science and bioprocessing, enabling the development of new and better therapies and more affordable medicine.