With twenty years of experience in cell line development, Sartorius offers its customers standard products and solutions, as well as flexible, customized approaches to fit every need in bioproduction. The main advantages are predictable lead times and a guaranteed positive outcome.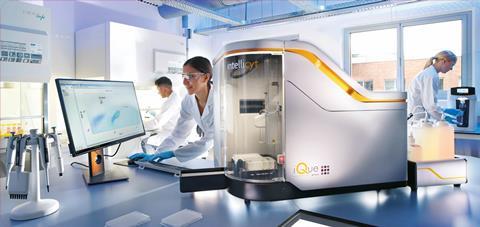 When it comes to the commercialization of a biological product, effective, high-quality cell line development (CLD) is essential for success. Sartorius offers a comprehensive portfolio of products and services that minimize risks, optimize outcomes and increase its customers' flexibility.
"For many of our customers, CLD is not their core business", says Gerben Zijlstra, marketing manager at Sartorius. "We can take the burden off their hands, whether they need a fully outsourced solution or select products and services to complement their own CLD capabilities."
Greater insight
Together, Sartorius' CLD products offer a standard platform with predictable lead times and a guaranteed positive outcome. One example is the iQue Advanced Flow Cytometry Platform, which provides greater insight into production clone ranking and selection, with rapid and simultaneous evaluation of IgG titer, specific productivity, and cell health. Another example is the Octet BLI Label-Free Detection System, which eliminates issues with detailed characterization of expressed proteins, thanks to optical biosensors that measure molecular interactions in real-time.
"Hundreds of lead clones have been produced using these systems", says Zijlstra, "several of which have been successfully brought to market. Our customers can be assured that there will be no irregularities during the regulatory approval process, and that there will be a robust outcome. This is true for lead development as well as for clinical trials and scale-up."
Standard or customized
Beside CLD products, Sartorius offers a range of services that can support customers during every step toward commercialization. These range from standard cell line development, protein characterization and cell banking to biosafety testing and a full Chinese Hamster Ovary (CHO) service package. "Our company has over 20 years of experience to share", says Zijlstra. "In short, we can provide our customers with high-production cell lines and protocols for standard fed-batch systems, but also with adjusted trajectories for the production of more complicated molecules, such as bi-specifics."
At Sartorius, we empower scientists and engineers to simplify and accelerate progress in life science and bioprocessing, enabling the development of new and better therapies and more affordable medicine.