Who presented the best poster at IUPAC | CHAINS 2023? It was up to the audience to decide.
At any conference, the poster presentations really reflect the scientific 'zeitgeist'. This is where you see a snapshot of what is going on in labs around the world. According to the participant of IUPAC | CHAINS 2023, these researchers did the best job of conveying their ideas and results to the audience. An overview of the winners of a poster prize at IUPAC | CHAINS 2023, sponsored by the Royal Society of Chemistry.
Track: Molecular Frontiers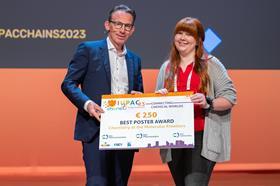 Kelly Brown – University of Strathclyde, Glasgow (UK)
'Non-traditional Applications of Electroanalytical Chemistry' 
 Bengi Şentürk – Eindhoven University of Technology (The Netherlands)
'Discovery of Thiosemicarbazone as a New Photoswitch'
Track: Health
Sophie Wintermans -  Leiden University (The Netherlands)
'High throughput screening method for RNA targeting'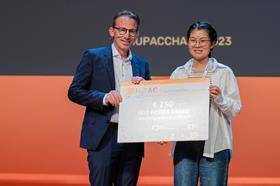 Ru Jiang – University of Groningen (The Netherlands)
'Novel artificial Metalloenzymes for Copper-Catalyzed Asymmetric Michael Addition to Nitroalkenes'
Track: Sustainability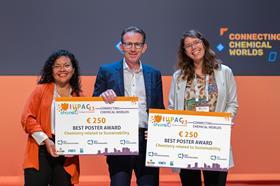 Emelin Yhoany Luna Barrios – Ghent University (Belgium)
'Co-solvent enables PET glycolysis at 65C in 1h, reducing the CO2 emissions up to 20% in comparison to the solvent free proces'
Beatriz Chícharo – Ca' foscari University, Venice (Italy)
'New families of 5-hydroxymethylfurfural derived biopolymers'
Track: Smart & Energy materials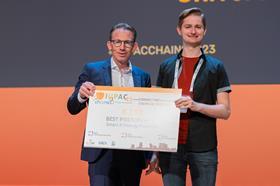 Stefan Wijker – Eindhoven University of Technology (The Netherlands).
'Revealing the shape of single-chain polymeric nanoparticles'
Kirstin Becker – University of Groningen (The Netherlands)
'Climbing "Up" the near-infrared window of dye-sensitized upconversion for photovoltaics'
Track: Ethics, education and society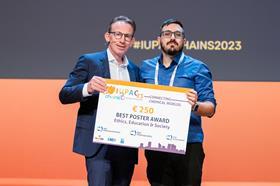 João Paulo Stadler - Instituto Federal do Paraná, Palmas paraná, (Brazil)
'Socio-scientific controversies about sustainability in brazilian textbooks'