The biopharmaceutical and biotech industry has evolved rapidly in recent years, spurred on by the unique challenges of the pandemic. Alongside digitalization, Industry 4.0, and the Industrial Internet of Things (IIoT) — which collectively enhance the automation and efficiency of processes — intelligent sensor solutions are playing an increasingly vital role. These technological advancements not only improve operational efficiency but also set new standards in the quality of biopharmaceutical products.
The concept of Process Analytical Technology (PAT) is equally influential, focusing on the real-time monitoring of critical process parameters. Hamilton offers an extensive range of process sensors for seamless measurement of key parameters, including pH, redox potential, dissolved oxygen, conductivity, CO2, and cell density. This enables companies to have complete control over critical process parameters, allowing for immediate action in case of deviations. Hamilton's Arc sensor technology delivers digital, interference-free measurement signals directly from the sensors. Real-time access to all metrics enables optimal process control, reducing the margin for error and time loss, while ensuring the highest quality results.
Market Focus in the Biopharma Industry
Giovanni Campolongo, Market Segment Manager Biopharma at Hamilton Process Analytics, notes: "Innovation is central to our business ethos, positioning us for future challenges. Hamilton aims to address the complexities of the biopharmaceutical industry, facilitating rapid, safe, and high-quality processes." As pioneers in the development of high-precision process sensors, Hamilton offers a technology stack that provides a robust database. "In a highly competitive market where the pressure for optimization is intense, Hamilton maintains a proactive stance, serving both current and future industry needs," adds Campolongo.

In this evolving landscape, several key trends are gaining prominence. While Industry 4.0 and digitalization generally drive production efficiency, the unique needs of biopharma customers go beyond this basic framework. The IIoT presents opportunities to enhance equipment performance and operational efficiency by leveraging data from smart devices and real-time sensors. "Our Arc technology significantly improves operations and maintenance management by allowing user-centric integration of sensors into software applications," explains Campolongo.
Convincing Users with Innovative Solutions
Hamilton's cell density sensors, specifically Incyte Arc and Dencytee Arc, have received significant attention for their capabilities in measuring viable and total cell density, respectively. These metrics are crucial performance indicators within bioreactors. Their real-time monitoring reduces labor requirements and enhances automation, thereby increasing productivity and overall efficiency. With the introduction of the CO2NTROL sensor, Hamilton has pioneered a breakthrough in dissolved CO2 monitoring. For the first time, this sensor employs an innovative optical measurement principle that allows users to maintain precise and uninterrupted control over dCO2 levels with minimal maintenance.
In recent years, the industry has witnessed a shift towards single-use technologies, prompting Hamilton to adapt its sensors for these applications. Such specialized sensors expedite the installation and validation process, accelerate operations, and enable faster product manufacturing. Additionally, single-use products occupy less space and offer high flexibility within biopharma facilities. Fast time-to-market, coupled with reduced cleaning and validation efforts, are standout features.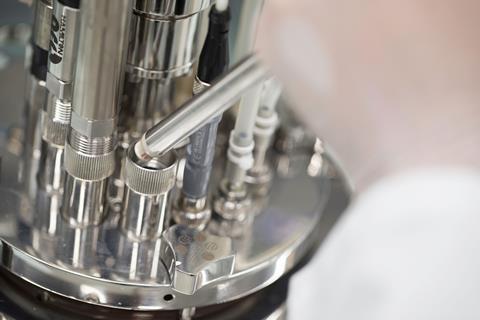 "The industry is also experiencing a growing transition from batch to continuous production processes. This transition can enhance productivity and result in significant cost savings in the medium to long term," adds Campolongo.
Reflecting on these accomplishments, Campolongo remains optimistic: "Thanks to our ongoing research and development efforts, Hamilton will continue leading in sensor technology, making significant contributions to process efficiency in the biopharmaceutical sector."
To further explore the ever evolving world of process analytics, Hamilton has recently released two whitepapers dedicated to PAT in the upstream and downstream process. These informative resources are available for free download through the following links:
Upstream
hamiltoncompany.com/process-analytics/how-does-pat-apply-to-the-bioreactor
Downstream
hamiltoncompany.com/process-analytics/biopharma-downstream-cpp