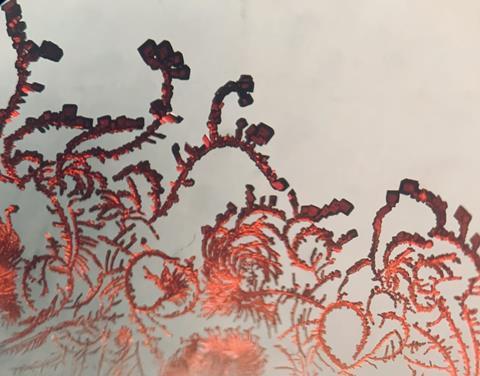 Nature offers the most beautiful crystal structures. But beauty is certainly not absent from the lab, as shown by these iron(II) photosensitisers.
This is the work of Ludovic Troian-Gautier and his student Alexia Ripak at the Université Catholique de Louvain. At the end of 2022, they were working on iron(II)-based photosensitisers. Photosensitisers are used to convert light of a broad spectrum for photochemical reactions. During this work, Ripak noticed this crystallisation pattern of the photosensitiser on a piece of glassware. It is reminiscent of embroidered fringes. Troian-Gautier submitted the photo for the Chemistry in Pictures section of the Chemical & Engineering News website.
Do you have any nice images from your research? Send them to redactie@kncv.nl and they may appear in our magazine!