Hamilton has extended its single-use sensor portfolio with two new parameters: conductivity and viable cell density. Combined with the innovative CO2NTROL-sensor introduced in early 2021, this fulfils another important expectation of the pharma and biotech market.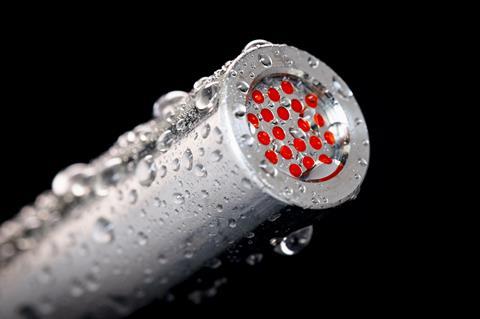 Measuring critical process parameters is key in optimizing bioreactor performance. As the sector is moving towards single-use bioprocessing, there is a rising demand for single-use sensors. "We recently developed a new product line with single-use sensors for conductivity and viable cell density", says René Matt, key account manager at Hamilton. "For both, the working principle is based on a ceramic plate with four platinum electrodes. The plate, in turn, is integrated into a plastic (HDPE) connection part, which is aimed to be welded into a single-use container."
This results in a sterile, leakage-free system that is pre-calibrated and compatible with gamma irradiation, as Matt points out. "Both systems also incorporate temperature measurement and have a shelf-life after irradiation of 24 months."
Peace of mind
Another important parameter is dissolved CO2. Even minimal variations can have a significant impact on cell culture productivity. Measuring dCO2 involves an intricate trade-off between three key factors: reliability, cost, and real-time control. With the new sensor CO2NTROL, Hamilton has struck the balance. "CO2NTROL is a 12 mm solid-state optical sensor", explains Hamilton's product manager Giovanni Campolongo. "It is therefore maintenance-free, can be simply calibrated, and has the highest accuracy in the bioprocesses application range. There is no need to replace any consumable part, even after several autoclavation rounds."
This sensor doesn't need an external transmitter – thanks to Hamilton's digital Arc technology, it can be connected directly to digital control systems – and in combination with ArcAir software is ready for GMP compliance. The overall costs are five times lower than for conventional technologies, and even more accurate. Campolongo: "We call it a peace-of-mind sensor."
Seamless transfer
The new conductivity and viable cell density sensors can also be wirelessly controlled by Hamilton's Arc technology using the ArcAir software. "Customers who are familiar with our reusable sensors will be able to easily understand and work with these new single-use sensors", René Matt emphasizes. "This is a very import advantage if they intend to move from reusable to single-use technologies. All our single-use sensors are based on the same working principles as reusable sensors, and the digital control system is the same. This allows for a completely seamless transfer."
Hamilton Company specializes in the development, manufacturing and customization of precision measurement devices, automated liquid handling workstations, and sample management systems. Explore what Hamilton Company offers for your lab.